| Main Page
| Links
| Updates

Information
| Characters
| Episode Guide
| FAQ
| Nielsen Ratings

Multimedia
| Image Galleries
| Lyrics
| Sound Files
| Video Files

Miscellaneous
| Episode Transcripts
| Message Board
| On TV


This site is currently not being updated and hasn't been in over a year. I may or may not come back to it in the future, I'm afraid I just don't have the time. Please, feel free to use the message board to connect with others fans, post times Jesse is airing, and most of all keep the show alive. I am not currently returning e-mails, I'm sorry, but I just don't have the time. -jessetvfan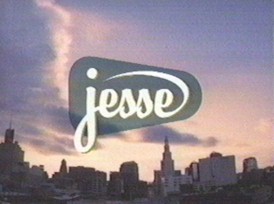 Created August 3rd, 2001
Last Updated August 13th, 2002
Favorite Character
Who is your favorite character on 'Jesse'?
Jesse
Diego
Little John
Darren
Junior
John, Sr.
Linda
Carrie
Danny
Kurt
Welcome to "Jesse", a site dedicated to the NBC comedy of the same name, that starred Christina Applegate and Bruno Campos. "Jesse" was a half-hour situation comedy that featured Christina Applegate, famous for her role as airhead Kelly Bundy on the hit series "Married...With Children" as single mother of one Jesse Warner. But Jesse was no airhead. In the first season the show was focused on Jesse's relationships with her new neighbor Diego, with her family and friends as supporting characters, while she worked at a bar, aspiring to be a nurse. The second season brought about some changes. Gone were Jesse's family, save her son, and introduced were two new characters, who worked a the hospital where Jesse is a nurse.
Sadly, the show ended after only two seasons. The ratings were high, the fans loved the show, but NBC cancelled it anyway. Unfortunately, I never saw the show when it was first airing on NBC, instead stumbling upon repeats on USA during the summer of 2001. I instantly fell in love with the Warner family, and created this website to give other "Jesse" fans a place to find information, as well as a forum through which to talk about the show.
Please take some time to look around the site. If you're an old fan, you already know what's going on. If you've stumbled across the site without ever seeing the show, feel free to e-mail me. But before you do, please read the FAQ, it might answer your questions. Enjoy!
Please contact me at jessetvfan@email.com with any questions, comments, suggestions, or just to chat about "Jesse".
Discuss "Jesse" at the Message Board!


"Jesse" fans have visited this site.


I don't own the rights to "Jesse" or any of the characters therein, I'm betting NBC owns the copyright. I'm not making money off this site, it's just for fun, don't sue, et cetera, et cetera, if you have any questions, please e-mail me at jessetvfan@email.com